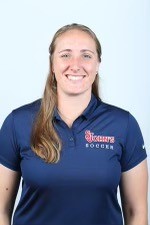 Amy Marron is the Assistant Coach of the Brooklyn City F.C. UWS women's team, joining the staff led by GM and Head Coach, Kim Wyant.
An assistant coach at St John's University, Marron immediately joins Coach Wyant in developing and preparing the Brooklyn City F.C. women's team for their inaugural UWS season this summer.
Marron brings first-hand knowledge of the league, having played in the UWS with NY Surf from 2017-2018.
An All-BIG East player while with St John's, Marron also played professionally in Iceland for Afturleding in the summer of 2014, before joining the St John's coaching staff.  A native of Valhalla, N.Y., Marron's time and experience playing and coaching in the New York City market, will bring invaluable perspective to the Brooklyn City F.C's women's team.
"I look forward to helping establish a winning culture with Brooklyn City F.C., and provide an opportunity for female athletes to continue to perform at a high level, while we grow the game and inspire local youth."