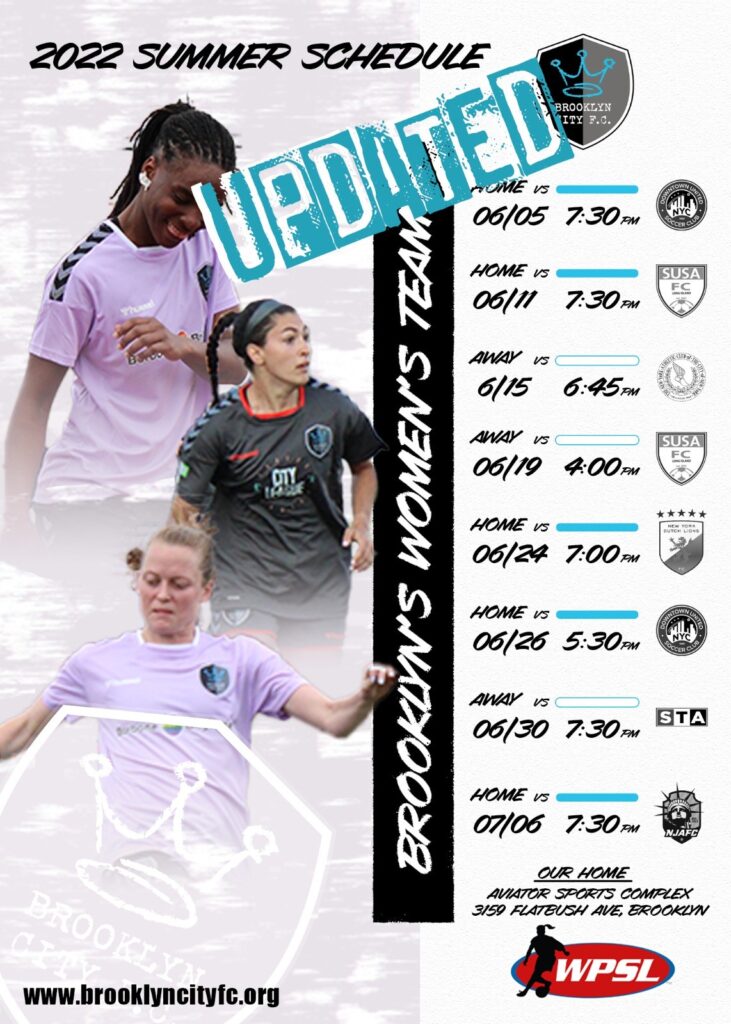 Schedule Update - 2022 WPSL Season
The Brooklyn City F.C. WPSL season schedule has been updated and finalized!   Please check out the following match dates, and mark your calendars for the next BCFC Home match, or travel with us to our Away matches!
Reserve your tickets for the next upcoming match!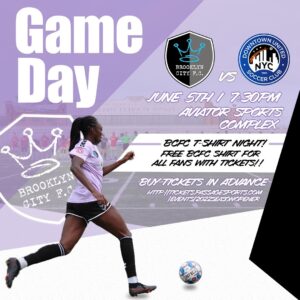 2022 WPSL Season Opener!
Brooklyn City F.C. kicks off its 2022 WPSL campaign with a match against cross-NYC rivals DUSC Women.   This summer marks the second season for the BCFC women's squad, which continues under the guidance of our top notch staff, Head Coach Kim Wyant and assistant coach Amy Marron.
Sunday night's match is BCFC Free t-shirt night!   All fans in attendance will receive a free BCFC t-shirt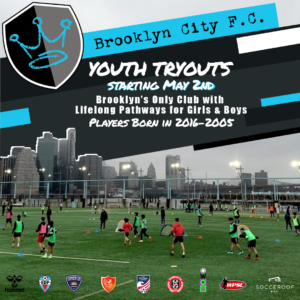 Youth Tryouts for 2022/23!
Brooklyn City F.C. announces youth tryout dates for players to join the club for the upcoming 2022-2023 soccer year!
Tryouts are available to any player born between 2016 and 2005, girls and boys.   While our youth club teams are at a competitive level, any interested player is welcome and encouraged to tryout!
Interested players should complete the form on our youth tryout page (click on button below), and reference the age group chart indicating which tryout dates are available for each birth year.
We hope to see you at the field in May!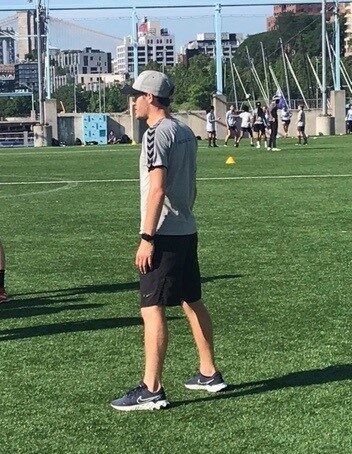 Jay Orban Appointed as Youth Technical Director
We are thrilled to announce the appointment of Jason Orban as Youth Technical Director of Brooklyn City F.C.
In his new role, Jay will continue to flush out the club's player development methodology, as well as overseeing it's implementation and application across all youth age groups, as well as Brooklyn City's grassroots youth development center programs.   Jay has also taken a leading role in enhancing ongoing BCFC coach education, earlier this Spring.
With Jay's leadership, the club will continue to establish itself as a leader in youth development for girls and boys across Brooklyn, developing young women and men into proactive, intelligent, creative and passionate soccer players who aspire to play for Brooklyn City F.C.'s Women's or Men's first teams.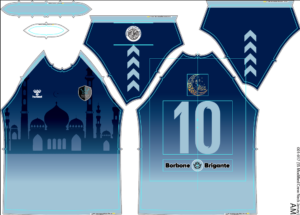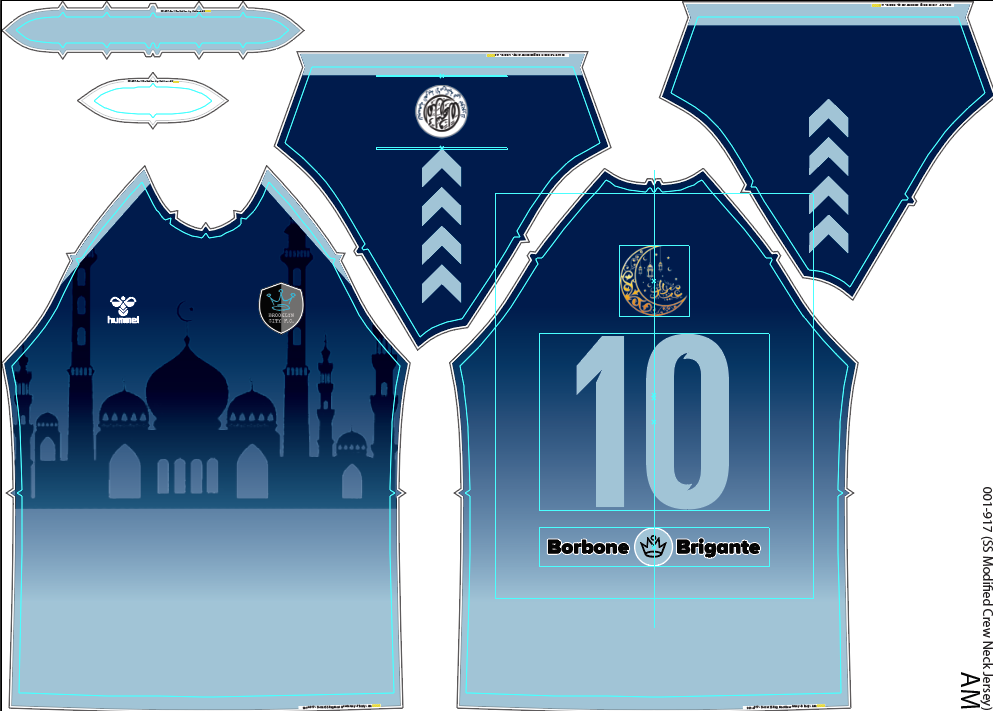 Limited Edition Eid Jersey!
We are proud to bring a *new* limited edition Hummel jersey to our BCFC community, and the larger Brooklyn community, in honor of the upcoming Eid holiday.  
Brooklyn City F.C. has long promoted a core value of Unity, so during this time we join arms with our Muslim brothers and sisters through this project by offering these beautiful Limited Edition BCFC Eid Jerseys, produced by Hummel
As a further action of our solidarity with the local community celebrating this month, for every jersey sold, all profits will be donated to the Arab American Association of New York.  
OFFICIAL BROOKLYN CITY F.C. BRAND PARTNER: