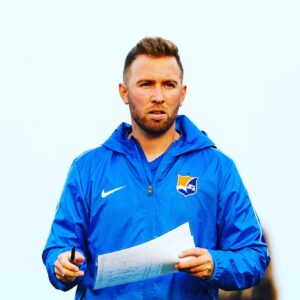 Brooklyn City F.C. is excited to announce the signing of coach Alex Mendolia, joining the club in multiple youth Head Coaching roles, Grassroots Technical Director, and Director of BCFC Passport (international programming).  Alex joins Brooklyn City FC after coaching multiple coaching stints at the College, Professional and Youth levels domestically and abroad in Spain.  Most recently, Coach Mendolia's coaching experience included Sky Blue FC of NWSL and Seton Hall University of the Big East Conference.  Alex is also currently an East Region ODP girls staff coach.
At Sky Blue FC, Alex helped develop, organize and execute sessions for team and individual training, and provided matchday analysis and opponent scouting reports for coaches and players including U.S. Women's National Team co-captain Carli Lloyd, Canadian goalkeeper Kailen Sheridan, Costa Rican midfielder Raquel Rocky Rodriguez, Cameroon defender Estelle Johnson, and others.
Alex spent 2018 and 2019 in Spain where he was an assistant coach for Union Deportivo San Lorenzo del Flumen in La Liga's third division and a youth academy soccer coach for SD Huesca & EF Huesca's professional youth academy. With UD San Lorenzo, Alex had control over training sessions for field players and goalkeepers while also assisting and designing individual recuperation sessions for injured players as well as tactical analyzation.
Prior to coaching overseas, Alex's college experience spanned both the D1 and D3 levels, in both the men's and women's collegiate soccer.  As head men's soccer coach at St Joseph's College, he led the Golden Eagles to a 7-1-1 record in conference play and an appearance in the Skyline Conference championship game.   Alex also worked as an assistant coach for LIU Post's nationally ranked men's soccer program during the 2012, 2013 and 2014 seasons.
Alex's most recent experience in the women's game was as an assistant with Division 1 program Seton Hall University, and Long Island at Stony Brook, where he was an assistant from 2015-16.  Prior to his time at Stony Brook, during the 2014 season Alex also served as an assistant for LIU Post's women's team, who posted a 15-3-1 record and earned an NCAA Tournament bid.
Alex had a standout playing career at Farmingdale State, tallying nine goals and 32 points in 69 games as a midfielder from 2007 to 2011. Upon graduation, Alex's 14 career assists was tied for the most in school history, and his tally of eight assists in 2008 set a school record.
After earning his Bachelor's degree in business management technology from Farmingdale State in 2011, Alex received a Master's in soccer coaching education from Ohio University in 2015. He also holds several USSF licenses, United Coaches Advanced National and Goalkeeping diplomas and the Tecnico Deportivo en Futbol (UEFA B) Coaching Degree in Spain.