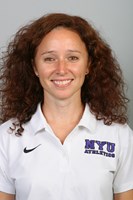 Michele Canning is the Associate Head Coach of the Brooklyn City F.C. women's first team.

In addition to her role with Brooklyn City F.C., Canning is the head coach of the NYU Women's soccer program, leading the team since 2010.

Canning joined NYU after six seasons (2004-07, '09-10) as an assistant coach at Division I St. John's University in Jamaica, NY. In 2009, she helped lead the Red Storm to the program's first-ever NCAA Tournament appearance and its first-ever ranking (#17) in the NSCAA Top 25 Poll. In 2006, the staff was selected as the Big East Coaching Staff of the Year. As the program's Recruiting Coordinator, Canning helped procure the team's first three Academic All-Americans and earned the University's Outstanding Coach Award in February 2011.
A 1998 magna cum laude graduate of Seton Hall University with Bachelor of Arts degrees in English and women's studies, Canning was a member of the Pirates' inaugural women's soccer team. She finished her four-year career tied for fifth in scoring (21 points) and goals (8), including netting the program's first-ever goal in 1994. In Canning's senior campaign, the squad posted a 14-5 record (9-2 in Big East play) and reached the semifinals of the Big East Tournament.
After graduating, Canning served one season (1998-99) as an assistant coach at Florida Atlantic University. In 2008-09, she returned to FAU and earned a Master of Arts degree in gender and sexuality studies. While there, Canning also taught undergraduate courses and served on the University's inaugural Women's Leadership Forum Committee and the Women's Studies Center Strategic Planning Committee.
Following her coaching stint at FAU, Canning returned to Seton Hall as an assistant coach for three seasons (2001-03).
Canning spent four seasons (2012-15) as the assistant coach of the NYAC (New York Athletic Club) amateur women's team in the Women's Professional Soccer League (WPSL). NYAC won the United States Adult Soccer Association (USASA) National Championship in 2014.
Canning also served as head coach of the NY Surf of the UWS (United Women's Soccer League) during the 2017 and 2018 seasons.
Off the field, Canning has instructed workshops and presented at conferences on topics such as leadership, goal-setting, gender and sports at several Colleges and Universities around the county. She also is a graduate of the NCAA Women's Coaches Academy class #41 and holds a professional diploma in Leading Spiritual Diversity in Higher Education from NYU's Steinhardt School of Culture, Education, and Human Development.
Canning, who has an Advanced National Coaching Diploma from the NSCAA, is a native of Philadelphia, PA, and resides in Scarsdale, NY.